The Dundee AAC Research group will be presenting the following publications at ISAAC 2018.
Link to conference website: isaac-online.org/english/conference-2018. @ISAACConf2018 – The official Twitter handle of the #ISAAC2018 Conference,
Follow us on twitter: @DundeeAAC, Dundee ACE-LP Research Project #DACELP, Tap and Talk Aphasia iPad Group @tap_and_talk.
---
Platform presentations
My Desert Island Discs: Ten songs telling the story of my life and disability
Alan McGregor, Rolf Black

In this presentation, the two authors Alan McGregor and Rolf Black will talk about ten songs and their impact on Alan throughout his lifetime. Alan was born with cerebral palsy and has no speech. Music always played a vital role in his life. […] 
(Download the full abstract, PDF)
Thursday, 26th July, 3-3:30pm, Room 5 (Stream: Lived Experience)
Alan's Desert Island Discs Playlist
1: Power of music – Alan McGregor 1991
2: Living in hell – Alan McGregor 1991
3: Keep talking – Pink Floyd
4: The last dance – Magnum
5: Don't you forget about me – Simple Minds
6: Live to tell – Madonna
7: Strange – The Feeling
8: Paralympic games 3 bronze medals – Alan McGregor 1993
---
User Centred Design with Disabled Participants: A New SGD Interface Supporting Narrative Prediction
Rolf Black, Zulqarnain Rashid, Annalu Waller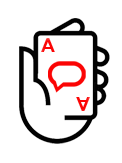 Despite the increased availability of SGDs on tablet computers and mobile devices, poor usability of AAC devices contribute to high rates of abandonment and slow communication rates. The importance of engaging with end users in the design and development of technology is reflected in industry standard user centred design (UCD) methodologies which demand the early and continual involvement of end users. Design activities require participants to be able to interact verbally and to manipulate physical or software based prototypes which may  be difficult for users with severe speech and physical impairments (SSPI). The challenges encountered by designers when including end users with complex disabilities result in the use of proxy users in the early stages of a project; disabled users tending to be recruited for summative evaluation studies only. […]
(Download the full abstract, PDF)
Tuesday, 24th July, 11-11:30am, Central A (Stream: System Design)
---
Gathering egocentric video and other sensor data with AAC users to inform narrative prediction
Rolf Black, Zulqarnain Rashid, Annalu Waller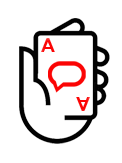 Personal narrative has long been accepted as a key part of our daily communication. Sharing our experiences with friends, family and others makes up a large proportion of our conversation. Many of these narratives are told more than once: sharing the good news of a new job, the stressful story of the flat tire in the highlands or all the things we experienced during our holidays.
During a conversation, partners base their contributions amongst other factors on the context of the conversation, for example, who the conversation partner is or where and when a conversation takes place. Some AAC systems provide the user with phrases and whole narratives rather than simple word prediction. In a study by Todman et al. handcrafted contextual conversational items were provided to AAC users on their device, communication rates of up to 64 wpm were demonstrated. However, using such a system requires hand scripted paragraphs and training users to remember the existence and location of these. […]
(Download the full abstract, PDF)
Tuesday, 24th July, 11:30am – 12pm, Central A (Stream: System Design)
---
Developing a novel system to support vocabulary acquisition in children with CCN: An ethnographic study
Chris Norrie, Annalu Waller, Jianguo Zhang

Communication aids designed for use by young children are typically based on a word phrase retrieval system using a grid-based symbol access paradigm. What has become clear, however, is that such systems have significant usability shortfalls for young children with complex communication needs (CCN). These systems may be failing these emergent communicators by hindering their capacity to acquire vocabulary during a critical developmental phase, and to their lifelong detriment (Light & Drager, 2007).
Moreover, user-centred design (UCD) has often been neglected with this user group due to the challenges that they present – a factor that may have exacerbated AAC device abandonment.
Informed by prior research unveiled during a literature review, the authors recognise that early intervention (EI) is key to achieving optimal outcomes for children with CCN (Odom et al, 2003) – and the adults they will eventually become. […]
(Download the full abstract, PDF)
Wednesday, 25th July, 11 – 11:45am, Room 4 (Stream: System Design)
---
Poster
I have Aphasia: An app designed by people with aphasia for people with aphasia
Rolf Black, Chris Kelly

Engaging with users has always been a key element of research and teaching at Computing within the School of Science and Engineering at the University of Dundee, UK. Special emphasis is put on working with users with disabilities or with users who face challenges when using technology.
In 2005, when Computing moved to a new building, a User Centre for older people was established in order to embed this special user group into the department. Later in 2010, the Straight Talking User Group of adults with complex disabilities who use AAC joined the User Centre. The latest addition came in 2013, when members of Speakeasy (now Speakability), a local group of people with aphasia, formed the Aphasia iPad group following an initiative of a person with aphasia from the Speakeasy group and his speech and language therapist. The aim was to learn about the use of Apple iPads and discover new mainstream apps to support communication. […]
(Download the full abstract, PDF)
Thursday, 26 July, 11am – 12:30pm (Group E: AACcess the Community, Relationships, Diversity, and Justice)
---
Short Film Festival

News update: Our two Aphasia short movies have been selected as the top two for the final ten films to be shown at the ISAAC Short Film Festival 2018.
Our films are all around aphasia. Our main submission to the Festival, the "I have Aphasia" stop animation short film, was animated and designed by people with aphasia for people with aphasia. The film aims to explain aphasia in 90 seconds to your communication partner. You can now download it as an App for iOS (Apple) mobile devices on the App Store.
Watch all submitted short films on our 'Tap and Talk' Aphasia iPad Group website: aac.dundee.ac.uk/tap-and-talk/animation-workshop