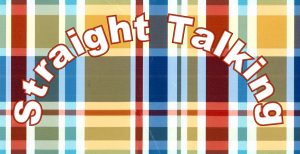 The Straight Talking Group is an expert user group of individuals using AAC. The group meet fortnightly at the University of Dundee's Discipline of Computing, working with researchers to evaluate and develop AAC technology and supporting the teaching activities in the School of Science and Engineering and the wider University.
Dundee has a long history of AAC research and some of the members of STG have been involved in a number of projects over many years, such as PAL, TALK & Scriptalker. Some of the research has been developed into commercial AAC systems through our industrial collaborators.
The group see their challenge in supporting technology transfer, e.g. the research into personal storytelling using AAC. They believe that developers need to talk more to user groups such as STG.
---
People
---
Sylvia Grant

Hello, I'm Sylvia Grant, I've got cerebral palsy, which means I'm unable to walk or speak, but my disability hasn't held me back from doing things that I wanted to do. I live in Glenrothes in Fife in my own little bungalow. I enjoy music, going to the cinema, socialising with family and friends and clothes shopping and I especially enjoy going out with friends for meals.
I now use an iPad to communicate with, but I have used a few different methods and few different types of speech aids to communicate with people during my lifetime. My association with Dundee University goes back about 25 years. I started going to the university to help a team of researchers, who were developing a stored phrase communication computer system to make it easier and quicker for people like me who can't speak to have conversations with people and I really enjoyed helping them, so when I heard about the Straight Talking group, I was really excited to be a part of it.
I like when we get to try out things and have discussions about issues that we might have as disabled people. We all join in the discussions and we all have a lot to say sometimes. We also speak to dental and medical students about ourselves and about what it's like going to a doctor or a dentist or when you are in the hospital, when you have communication difficulties. I feel it's very important for us to speak to the students to give them some insight into how it feels when you can't communicate by speaking, because they are going to be helping some people like us in their professional lives. I think that we learn from each other in the group too, through talking about our experiences in life as disabled people. We have a good laugh together sometimes as well.
---
Alan McGregor

Hi my name is Alan McGregor and I have cerebral palsy. This affects the amount of control I have over all my muscles, including those of speech. Im an ex-Paralympic swimmer, I swam for the UK team for 14 years. I competed in three Paralympic games: Barcelona, Atlanta and Sydney, and won four bronze medals and one silver medal for team UK. I hung my competitive trunks up 10 years ago, now I swim for fitness and fun.Along with swimming my other hobbies are cycling, horse riding, going for short walks, going to see my favourite bands live in concert and making my own music. I have been lucky enough to produce three albums.
I give talks in the UK and around the world about being non-speaking and the troubles we face in every day life. I also help to create new software for us non-speakers. My dream is that one day we will be able to engage and keep up with everyday conversations just like everyone else.
---
Karen McBride

Hi, I'm Karen McBride, a member of the Straight Talking Group. I have been a part of the group since its inception.
I live at home with my mum and my two dogs. Twice a week I do voluntary work at Capability Scotland. In my spare time I like to go to the theatre, the cinema, eating out in restaurants, and – of course – shopping!
---
Darryal Stark

Hello, I'm Darryal.
I like to:
read books,
listen to my music, and
to go on holiday.
---
Georgie Williams

I'm Georgie and I am 25 years old. I have been a member of Straight Talking Group since 2012.
I work as a volunteer at Perth Hospital radio twice a week. I take requests for music from the patients and then play them live that evening from the studio.
I attended National Star college in Cheltenham for 3 years, during this time, I found my love for skiing, which I continue to do as often as I can. As well as skiing, some of my other hobbies include swimming, cooking and meeting with friends for dinner. I also enjoy travelling. I have been to various different places including Andorra, Tenerife and Dubai.
Overall though, my biggest passion is music. Whether that is just relaxing at home with music in the background or going to a venue to listen to numerous artists live.
---
Eoghan McKenzie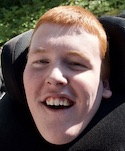 Hi there, I'm Eoghan and I joined the group in 2019. I'm currently a student at Dundee and Angus College studying Social Sciences. My favourite subject is history and as part of that, I love visiting historical sites – though haven't been able to do so recently!
Like some of the other members of the group, I've got Cerebral Palsy but we're all affected in different ways. I'm dystonic quadriplegic so I've got no use of my arms and legs and the muscles which hold my head up aren't too good either. I'm the only member of the group, so far, who uses eye gaze to control my AAC device.
I live at home in Fife with my mum and dad and I've got an older sister. We've also got three hens and now, a new kitten called Samson who loves to sleep on my knee.
Apart from using it for communication, I love browsing the internet on my computer. I spend most of my time on Wikipedia and YouTube and like checking out various personalities and movie info.
---
Amy Tavendale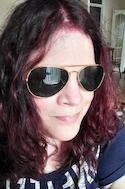 Hi, my name is Amy Tavendale and I have an acquired brain injury caused by surgical complications. This happened aged 32, in 2014, and after 5 weeks in a coma I emerged from it with locked in syndrome. After about 5 months in Ninewells hospital I was transferred to the Royal Victoria Centre for Brain Injury Rehabilitation (CBIR).
I was there for 13 months where I received intensive rehabilitation including physiotherapy, occupational therapy, speech and language therapy and art therapy. In the beginning I couldn't move apart from blinking my eyes and I couldn't speak or even make a noise.
Over time improvements started to happen in movement and speech. I used AAC to communicate including an eye gaze chart and an electronic speaker. Over time I was able to speak more and more and was diagnosed with dysarthia.
Now I live in an adapted bungalow and can transfer independently. I have carers once a day and I do have some ongoing health conditions.
I live a full life, despite my disability, and I am able to communicate either by limited speech or technology. I read a lot and recently purchased a Kindle. I also listen to music and I'm a big horror movie fan. I also confess I am a shopaholic!
I enjoy talking about my experiences and I hope to continue to educate people. Hopefully something good can come from this.
---
Tina MacLugash

Hi my name is Tina MacLugash. I am 48years old. I have cerebral palsy quite severely which makes me unable to speak or walk or control my hands much.
I have been invited to join the Straight Talking group this year. I am delighted to be meeting other AAC users as I don't meet any in Fort William. To communicate, I use a home-made word list on a clipboard. It originated from a Bliss symbol chart I was given when I started school. This has been personalised and developed over the years by my family and friends. This is my "Low tech" communication. For my "High tech" communication, I am currently trying to use a Talker with a touch screen. Family and friends had to develop a T-bar stylus so I could access it. Unfortunately, my hand control is getting worse. I have recently been assessed as a good candidate for eye-gaze access to it – so I live in hope!
After I left school, I lived in Red Cross House and Motherwell college for a few years. I had plenty of wild times in my younger years those details are not for this website! Then 24 years ago I pioneered Self Directed Support in Highland and this enabled me to choose my staff and live independently in my flat in Fort William. Then I got into rowdy night life in my local towns and rowdy parties in my flat – more details not for this website !
I've quietened down a bit now and I have a nice steady boyfriend. We enjoy going to music concerts and festivals, eating out and going on holidays. I love holidays and I've been abroad a lot and on Mediterranean and Caribbean cruises.
Some other things I have done include wheelchair dancing and I competed at national and international level. I love drama and I have been in local productions. I have completed 2 Lochaber marathons in my wheelchair to fundraise for charities. I go to a couple of local churches.
I am a member of Disability Activist groups – Inclusion Scotland and People Led Policy Panel. Locally I helped to campaign successfully for a safe crossing to the shops.
---
Jonathan Bryan

Hello my name is Jonathan Bryan. I am 15 years old and I live with my mum, dad, two sisters and my dog.
I have cerebral palsy and I am unable to speak but I communicate using my eyes and an e-tran frame with the alphabet stuck on it. When I was four I went to special school and was given the label Profound and Multiple Learning Difficulties (PMLD), and was given a sensory curriculum and very little literacy with no expectation of progression. At the age of 7 my mother took me out of school to teach me to read and write, and after two years I had caught up with my peers and joined my local primary school.
Since then it has been my passion to advocate for all children to be taught to read and write regardless of their educational label, and to that end I have founded a charity, Teach Us Too (link: teachustoo.org.uk) and written a book, Eye Can Write (link: bit.ly/EyeCanWriteBook).
One day I dream of visiting Scotland..!
---
Publications
---
Newell, A. F., Booth, L. and Beattie, W. (1991). Predictive text entry with PAL and children with learning difficulties. British Journal of Educational Technology, 22: 23–40. doi:10.1111/j.1467-8535.1991.tb00049.x
Todman, J. (2000). Rate and quality of conversations using a text-storage AAC system: Single-case training study. AAC Augmentative and Alternative Communication, pp 164-179.
Dye, R., Alm, N., Arnott, J. L., Harper, G. and Morrison, A. I. (1998). A script-based AAC system for transactional interaction. Natural Language Engineering, 4, pp 57-71.