Overview
MSc Educational Assistive Technology (part time) has been developed in response to a global need for the professionalisation of the 'Assistive Technologist' role within all levels of education provision. (Also available full time – application deadline for full time September 2021 intake has now passed)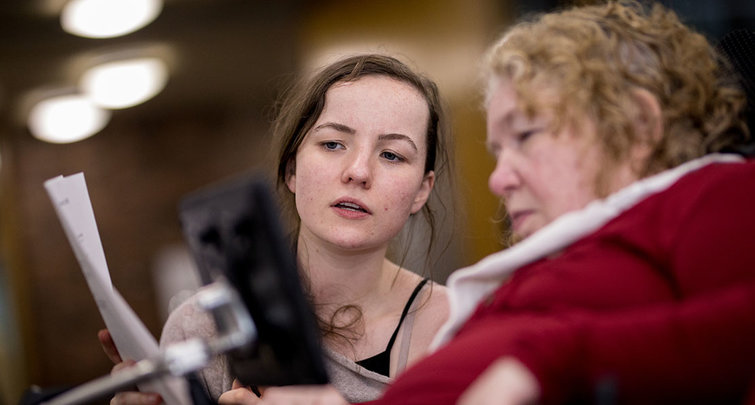 What is an Educational Assistive Technologist?
The Educational Assistive Technologist (EduAT) is a professional who works with others to ensure that Assistive Technology (AT) is deployed and supported across the service provision for an individual learner. The EduAT works as the 'chief integrator' of the Assistive Technology system.
Read more about this exciting course in our Story: "New course to tackle barriers faced by disabled learners"
Watch a recording of our recent Open Afternoon session, including feedback by our current students in the second hour of the recording.
Who employs an Educational Assistive Technologist?
An Educational Assistive Technologist (EduAT) is employed within specialist and mainstream education or social care organisations to undertake the assessment, provisioning and ongoing support of Assistive Technology systems. The EduAT role is intended to support students with a broad range of learning difficulties and/or physical disabilities, ranging from high incidence, lower impact disabilities (e.g. dyslexia, dyspraxia) through to low incidence, higher impact disabilities (e.g. cerebral palsy, autism).
What is Assistive Technology?
The purpose of Assistive Technology is to ensure that individuals are able to access and participate fully in education, employment, entertainment and the wider environment as independently as possible. For some individuals the provision of assistive technology is crucial to enable access to the curriculum (e.g. non-speaking learners who use communication aids) and for others it will allow them to access the curriculum at a higher level, for example users of literacy support tools.
At whom is the MSc aimed?
Teachers … therapists … technologists. Students will have prior experience and/or be working in an AT environment.
Who is involved in the programme?
The programme builds on the expertise in Accessibility and Augmentative and Alternative Communication (AAC) Technology within Computing and the ongoing collaboration across other Schools.
Prof Annalu Waller: "Having worked in the field for 30 years I am excited to be involved in the programme!" Find out more about Annalu on her Discovery Portal page.
Rohan Slaughter, Senior Lecturer: "I am interested in how technology can be applied innovatively to solve problems in ways that make things easier for people. I like to shape technology in order to achieve organisational and individual goals." Find out more about Rohan on his Staff page.
Dipl.-Ing. Rolf Black, Lecturer: "It's working with people of all abilities and supporting them to reach their full potential that got me into this field, from teaching to engageing to collaborating." Link to Rolf's bio, contact details and Discovery Portal page.